Koishii & Hush Ft. Gillian Gilbert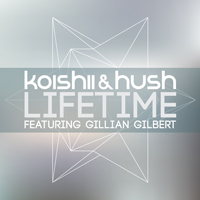 'Lifetime' is Koishii & Hush's first single of 2016 and it is classic K&H. Full on trance with an infectious groove that would bring even the most casual EDM fan to the dance floor. Another reason why this release is special is the vocalist, Gillian Gilbert – best known as a member of New Order and a founding member of The Other Two. 'Lifetime' marks the very first time that Gillian has written or performed vocals outside of her own projects, and to great effect.
Remixes come from a wealth of modern dancefloor talent including Saltmarine, rising house star Lavinge, synthpop master FM Attack, and trance hit machine Re:Locate.
There is also a crowdfunding campaign for a limited edition vinyl. For info, please click HERE